A hundred years ago, music education in U.S. public schools was evolving to include school orchestras and bands. The popularity of concert bands and professional orchestras in the early 20th century helped to fuel this trend. Prior to that, music instruction had generally centered on choral singing, as an outgrowth of church choirs. Group instruction of string ensembles, bands and orchestras began as after-school programs, but were quickly added as subjects to many schools' curriculum in the early parts of the 20th century. In the latter part of the 19th century, the invention of the phonograph and later, radio allowed greater accessibility to music in people's homes. Learning how to listen to music, or music appreciation, along with music history and theory also evolved from extracurricular to finding a place as curricular subjects.
Music education also received a boost after World War I, when many of the Army band leaders became available to teach music in schools, and government funding was available to support music and arts education in schools.
During the Great Depression, tensions arose between industry and the educational system. Business leaders and politicians considered music programs and the arts superfluous to an increasingly industrial society. This viewpoint continued well after World War II.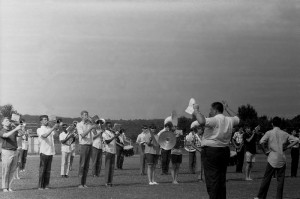 Music education received an unexpected boost in the late 1950s after the Russians launched  their Sputnik I satellite into outer space before the U.S. launched their Explorer satellite. The National Defense Education Act (NDEA) provided funding for the hard sciences and foreign languages, eliciting concern for the dwindling role of music in an increasingly technological society. The Ford Foundation responded by establishing grants to place young composers in schools as composers-in-residence, and to train  music teachers to understand contemporary composition. The Juilliard Repertory Project emerged from the 1963 Yale Seminar on Music Education, providing a library of music for children from kindergarten to the sixth grade. Perhaps most importantly, the Tanglewood Declaration provided valuable recommendations for music education by music educators themselves. Other noteworthy contributions include the Manhattanville Music Curriculum Program, structured to include performing and analyzing music, as well as composing and evaluating music.
By the 1980s, support for the arts was cut drastically due to a flailing economy and budget cuts.
Today, an academic education is a given, with music as an added bonus as long as funding is available. The popular TV show Glee illustrates how a high school choral program is in constant danger of being cut. Mister B, a.k.a Gregg Breinberg, choral director of Staten Island's PS22 Chorus is a triumphant example of elementary school music education thriving despite the tough economic times.
In Australia, The Bonkers Beat Singing Kindy Music Kindergarten Preschool Kinder Program, bases all teaching on music and singing. Children learn about rhythm, and how to say "hello" in various languages. Parents feel the school helps their children be more confident, and how to be part of a group by having to rely on each other.
The lack of funding and government support has given way to programs like the O'Connor method, a program for beginning string musicians. Mark O'Connor is a world famous classical violinist who also loves American music and folk songs. After attending one of his method camps all around the U.S., children can branch out to classical or jazz music depending on their inclinations. O'Connor has been described as "revolutionizing string pedagogy" by String Magazine, and compared favorably with the Suzuki method. On her blog Violinist, Laurie Niles writes that the Suzuki and O'Connor methods can work together very well.
In the 1920s and 1930s, jazz was enjoying enormous popularity. Many of the songs from this era and beyond are part of the Great American Songbook, and include the jazz standards taught in school today. In this video, Michael Buble talks about how his love for the American Songbook, instilled by his grandfather was a way of rebelling against pop music and claiming his individuality.
While rebellion was a large part of Buble's motivation to study and learn American Songbook classics, musicians like Grammy-award winning Esperanza Spaulding have spoken about how a rigorous training program helped them hone their chops. In the video below, Esperanza talks about being "scared into becoming serious about music" by the seasoned jazz musicians who were her teachers at Cultural Recreation Band.
Esperanza Spalding | Interview from Concord Music Group on Vimeo.
An extraordinarily successful program based on an intensive immersion in music education was started by Dr. Jose Antonio Abreu in Venezuela in 1975, called El Sistema.
El Sistema has enjoyed robust government funding and support, unlike the arts and music education here in the U.S. El Sistema is a social system for kids from the poorest slums, or barrios of Caracas, Venezuela. This rigorous classical music training functions as a vehicle for social change by taking children out of the dangerous and barren world of the barrio and keeping them in school for 12 hours a day, six days a week. Children start their music education as young as 2 years old, learning rhythm and the language of music. By age 4, they learn how to play instruments, and by age 6 or 7, they play in orchestras. This training instills confidence and self-esteem in children who could easily have been left behind, facing a life of extreme poverty. One of the most famous pupils to emerge from El Sistema is Gustavo Dudamel, currently filling the role of Music Director of the Los Angeles Philharmonic, the Gothenburg Symphony Orchestra, and the Simón Bolívar Symphony Orchestra of Venezuela. Not all of El Sistema's students end up playing in a professional orchestra; many go on to other professions like law or medicine, or learn how to craft and build musical instruments.
El Sistema has inspired programs in the U.S. and all over the world. Nevertheless, some dispute El Sistema's uniqueness. In a recent NPR interview, Richard Kessler, executive director of New York City's Center for Arts Education said:
Our government does not fund the arts on that kind of level, on that sort of basis. So what happens is El Sistema has to be translated into something that's American and I think in the translation, generally speaking, it doesn't look very different than many very good youth orchestra programs.
In other words, in the U.S., parents' budgets and private support have filled the gap when public funding falls short.
In the 21st century, iPad technology and apps provide exciting new tools for music educators and students. Some students are even writing and performing pop music with iPads:
How do you think music education has changed in the last 100 years?
Giuliana is a writer and social media strategist who lives in Jersey City with her husband and adorable Maltese puppy, Bianca. Connect with Giuliana on Google+
Additional source: Labuta, Joseph A. Music Education: Historical Contexts and Perspectives. Prentice Hall, Inc. 1997.
Photo credits: Nathan Russell, Hunter-Desportes