A few weeks ago, I was having lunch with my friend Pam and her son Theo, who is five years old. Theo had been feeling agitated and was running back and forth on the outdoor patio of the restaurant, trying to burn off some nervous energy while we were waiting for our food to be served. I thought he might be interested in one of the Jazzy Day apps, so I asked Pam if it was OK with her, and then pulled out my iPhone and showed Jazzy ABC to him. He came right over, no doubt feeling curious about the illustrations of the kittens and alphabet letters. As he started interacting with the game a sense of calm seemed to overtake him. He transformed from distractedly running up and down, flapping and clapping his hands to being really focused on the task of naming the various instruments correctly.
My friend was amazed: "I had no idea that he knows what a vibraphone is!" Theo's intelligence shone through as he became involved with the game, quickly answering the questions—no guessing here. You could argue this speaks well of Theo's education, that he's clearly a budding musician, or that he already knows his ABCs, but it was heartwarming to see his face light up when the voiceover in "Jazzy ABC" praised him for getting the right answer.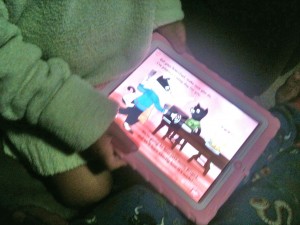 Achieving this kind of interactivity and connection with children is at the heart of The Melody Book's work. We are on a mission to help kids everywhere learn about music and instruments in a fun and colorful way.
Charly James, a divorced mother with two special needs children reached out to The Melody Book recently on Twitter, praising A Jazzy Day. Both of her children Ian and Gretchen have really connected with our app. Gretchen just turned five in March, while Ian will be seven in December. Charly says the family starts their morning with A Jazzy Day (AJD), and they end their night with it:
Gretchen loves AJD. She wants to keep it forever. She's very much into jazz, blues, classical, even opera. She loves all kinds of music, and likes to listen to the Big Band, she absolutely adores it. I have to put Billie Holliday on every day, or Dizzy Gillespie. Ian really likes classical music. Ian works for rewards, and really likes the game at the end of AJD when you can pick out the instruments; he's really good at that. The fact that AJD is so interactive is great. If you tap one of the kittens, then tap the other one, they talk  over one another, and Gretchen thinks that's hilarious: "That's just like me and Ian!"
Charly wanted to share her story with us in order to help other families with special needs children. Both of her children are very smart and Ian is considered twice-exceptional in math and science. Charly says:
People have the wrong impression about children on the spectrum. They go by what they see on TV [or what is] portrayed by the media. There are two [options]: you're either a savant in music or math, or you're on the lower end and you're non-verbal and unable to function. They know absolutely nothing about all the variances between them—from the non-verbal child that is studious and loving with yes, melts down if something throws his sensory [capacities] into overdrive, or the middle-of-the-roaders, or the ones higher up that spectrum that are verbal and witty at times and CAN you look you in the eye.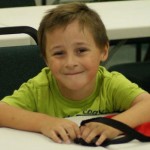 Ian had open-heart surgery when he was one month old. There were some complications, and as a result Ian is on the autism spectrum. Ian has not been diagnosed as having Asperger's syndrome, but he is considered high functioning. Due to Ian's ongoing medical issues, Charly left a longstanding career in global online training to become a stay-at-home mom. A couple of years ago she returned to work part-time but when Ian experienced setbacks, she stopped again.
Ian gets private therapy year-round, including during the school year. He gets occupational therapy (OT), speech and language pathology (SLP) and applied behavioral analysis therapy (ABA), all to help him with his social skills. This summer Ian is taking swimming lessons for the first time. He might like to try football next. Ian loves Power Rangers, and used to really like Pokemon, but his mainstays are dinosaurs and space. He says he is going to be a doctor in space one day.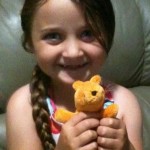 Gretchen suffers from social anxiety. She takes dance lessons all year long, but has recently been having more severe sensory issues with sound. She finds the large number of kids in the classes overwhelming, and so many kids try to talk to her that it makes her want to change activities. Gretchen tried cheerleading camp last year and decided it was not for her (when they moved inside the noise became very loud.) She is thinking about switching to soccer and piano lessons.
The family goes to the pool almost daily for Ian's swim lessons—it's calming for him. When it starts getting crowded it can be hard on Gretchen, but she can overcome her urge to go and the water is soothing for both kids.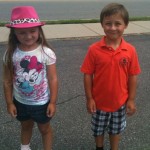 Charly and the kids visit parks, go roller skating and to movies sometimes or have movie night at home. A typical day could include any number of activities for the kids:
Gretchen loves to do rhymes about anything and sings them like she is an aspiring rap-artist and Ian gets frustrated because he does not understand the concept of the brain. If we have to leave to go somewhere (which I prepare him for days in advance if possible to make sure he gets there is a change in routine) and he is watching something—say Power Rangers—he gets upset and says he wishes he could cut himself in half and be at two places at once! Then he says he will figure that out.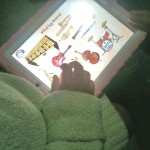 Charly feels very fortunate to have won a free iPad this past New Year's Eve from A4, Apps for Children with Special Needs. A4 was featured on 60 minutes in December 2011. Charly found the community online, made a comment and won, much to her surprise. The iPad has made a huge difference by facilitating Ian's school work and speech therapy.
Gretchen and Ian are very excited about Jazzy ABC and our new upcoming release, Jazzy 123, which will be available on the iTunes store August 10.
Giuliana is a writer and social media strategist who lives in Jersey City with her husband and adorable Maltese, Bianca. Connect with Giuliana on Google+