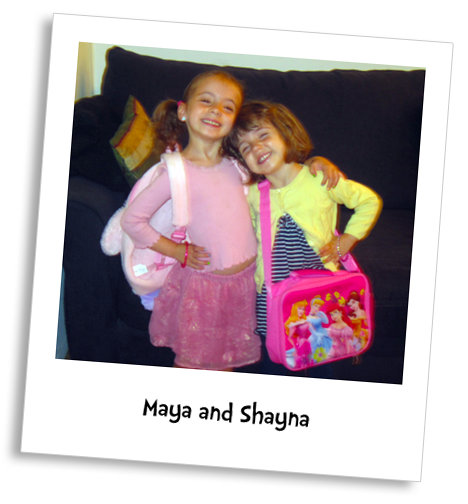 Meet my daughters. Maya is 4 years old and Shayna is 2 years old.
We had a very exciting week as it was a week of firsts! Maya began her last year of preschool and Shayna began her first year of preschool.
Both girls had been talking about the first day of school since before the summer had even begun, so you might imagine this day was BIG. My girls love all things related to school—school supplies, books, and writing. They are so eager and curious about everything, I sometimes think of them as "sponges", ready to absorb and soak in anything new. Our week of firsts went great! Maya was so happy to see all of her friends return to school and begin their "senior" year of preschool, while Shayna did so much better than I expected. She only cried for a few minutes when I left her in school and then after I arrived a few minutes early to pick her up and spy on her through the tiny window on the door, I was so pleasantly surprised to see her laughing, and chatting away. I was so proud of my little koala bear.
Aside from first days of school this past week, we also discovered some great new apps for the iPad!
But before I get into that, here's a little background on us; We are a very musical family. My husband, David is a pianist and singer, and he can play practically any instrument. He plays everything from classical to pop music. My children are constantly surrounded by music, whether it's listening to their dad play the piano at home (which they love), to listening to the radio, and now to their latest obsession, listening to the soundtrack of Annie the musical. This summer during our drive to Cape Cod, guess what we listened to the entire time? Yes, the soundtrack to Annie for SIX hours played over and over and over again….
My girls also have another obsession; the iPad. If you were to open my iPad you would find over 50 downloaded apps for my kids. They range from lots of cooking apps, to puzzles, to the alphabet, and of course music. Recently, I was lucky enough to discover the www.TheMelodybook.com and I downloaded the "A Jazzy Day", "Jazzy 123" and the "Jazzy ABC" apps. They absolutely love both.
That's Shayna with the iPad playing with a "A Jazzy Day", while Maya eats her breakfast.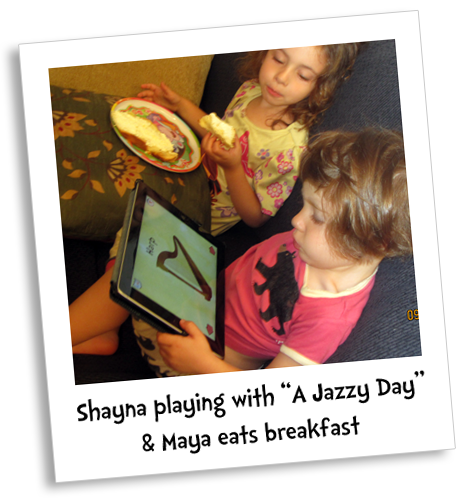 Maya, my older daughter really enjoys the games, while Shayna (2 years old) loves repeating all the names of the instruments. Today she learned the word "oboe" and then said it out loud, pointed to her elbow and said "Mommy, my oboe". I guess "oboe" and "elbow" do sound very similar! Maya also loves touching the animals in the story portion of "A Jazzy Day" and listening to them speak or play their instruments. She comments on the bright colors and asks questions, making it a really interactive experience for patents and children—and I happen to love this aspect of these apps. Another wonderful aspect of these apps is that you can change the languages! My daughters changed the language from English to Hebrew and to French and would repeat the words in other languages. Even for me, as the parent it was great to learn how to say the instruments in other languages. But one of our favorite things about all the "Jazzy" apps is that when you touch on the instruments, they make their unique sound, so for instance, I had never heard a lute before, but when I touched it, it made the most beautiful sound. I think it might be my new favorite instrument! It just goes to show you that these apps not only teach children, but us parents can learn a thing or two as well.
Finally, while I think the iPad is such a great tool and has wonderful educational benefits, I am definitely more drawn to the apps that promote communication between a child and their parent/caregiver/sibling. Both a "A Jazzy Day", "Jazzy 123", and "Jazzy ABC" do that. It's not just about touching the screen and moving images, there are stories, and sounds, and interaction, which make it a true educational experience.
Both girls did get very excited when they saw the piano on the screen because we have one at home, and it's so familiar to them. When I asked them each what their favorite instrument was, Maya said flute and Shayna said guitar. Both answers were unexpected since I had never heard them say those instruments before having used the Melody Book apps. But they had retained the information, without me having to do a thing!
So as we now head into the second week of school, I am so excited to see what other "firsts" lay ahead for my little girls! I know one thing for sure—music and education will continue to be a huge part of our lives. The possibilities are endless and I am loving every minute of this journey.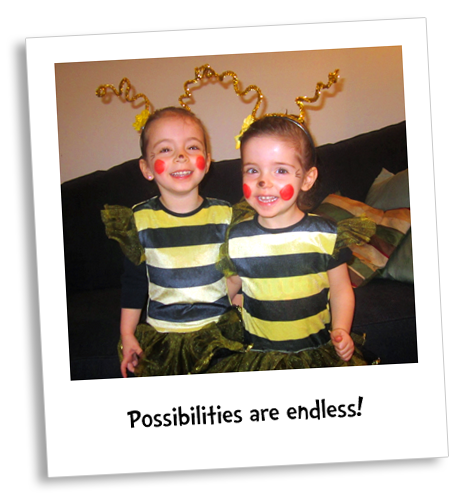 Sharon Marcus is a Graduate Student at Hunter College, where she is getting her Masters degree in Early Childhood Education. She and her husband David live in New York City with their two adorable daughters, Maya and Shayna.