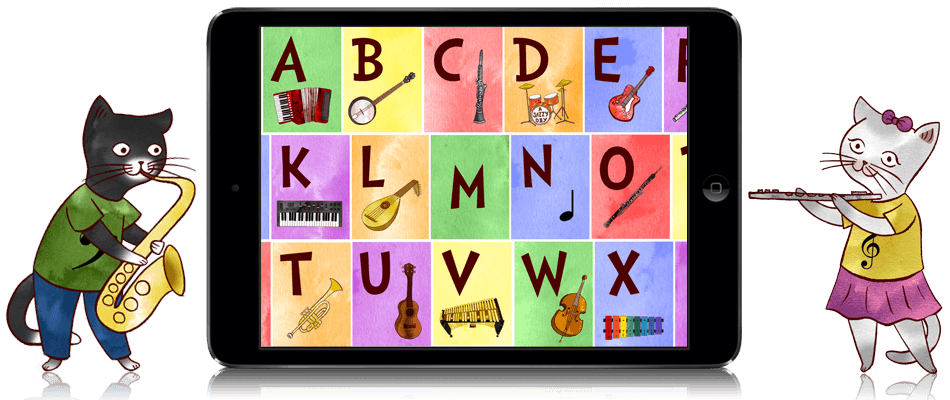 Learn about music instruments and letters in a fun and interactive game!
Play our featured interactive audio and visual games "Find The Instrument" or "Which Instrument starts with (ABC)?" and put your knowledge to the test!
JAZZY ABC is easy to use! Kids simply tap on the instruments to hear the sounds. Enjoy the music and animation.
CREATED BY PROFESSIONAL MUSIC EDUCATORS – DESIGNED FOR YOUNG KIDS ( and for "kids" of all ages! )
Does your child know what a saxophone looks like or what a guitar sounds like? Offer your kids a brand new musical learning experience, as they learn the alphabet and expand their vocabulary.
Special Features:
★ Interactive pages – tap the animals or instruments and listen.
★ Audio recordings of real acoustic instruments from professional musicians.
★ Your child will learn to recognize a flute, saxophone, trumpet, bass, vibraphone and many more instruments by sound and sight.
★ Vivid and colorful illustrations that every kid will love.
★ Games : "Find the instrument" and "Which instrument starts with (ABC)".
★ Take a picture with the musical kittens and share your photo!
★ Very easy and simple to use – especially designed for little fingers.
★ This app will teach and inspire your child to start playing a music instrument.
★ Fun for children, and parents will enjoy watching their kids learn about music and the alphabet!
Please let us know if you have any questions. We would love to hear from you at info@themelodybook.com